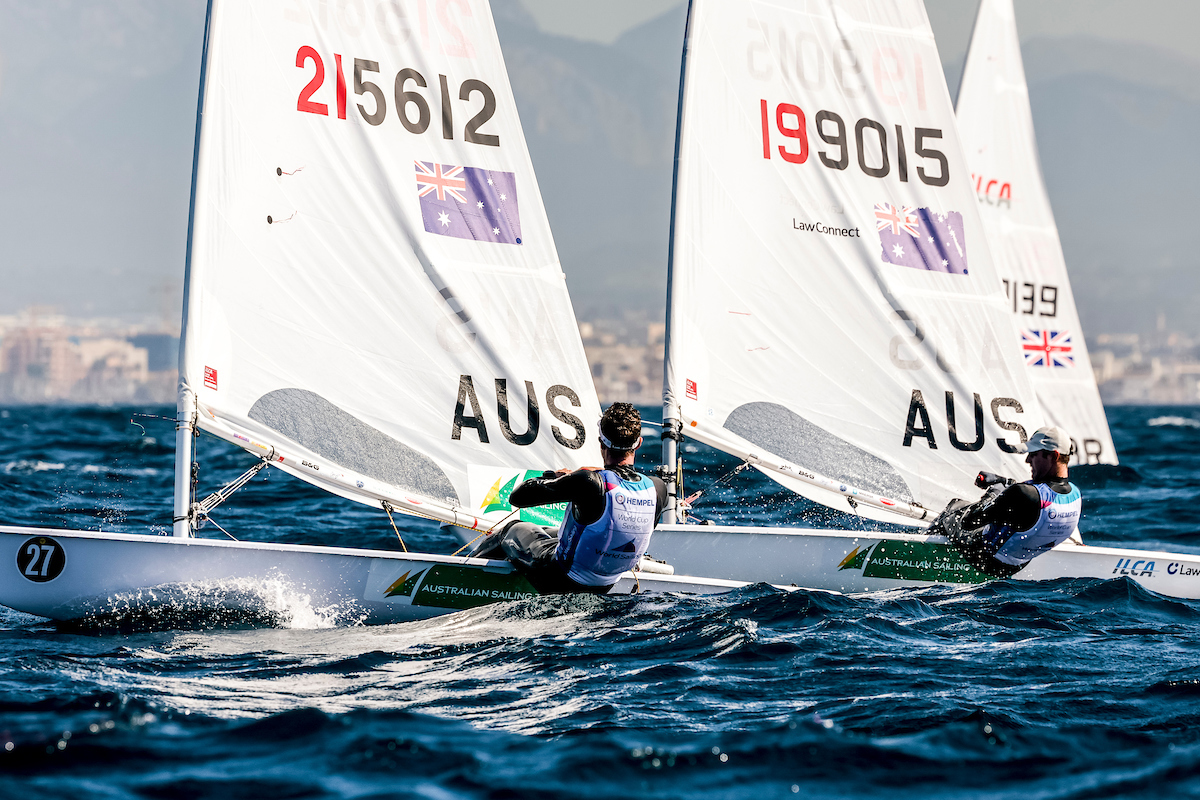 Many changes in different series will make Trofeo Princesa Sofía's final days even more interesting. French Jean-Baptiste Bernaz (79 pts) was leading ILCA7 yesterday but could not compete after contracting the flu. British Mickael Beckett (33 pts) took back the head of provisional ranking, closely followed by Germany's Philipp Buhl (35 pts). Australian Olympic champion Matt Wearn made a great come-back and is now standing 3rd (48 pts).
Canada's Sarah Douglas still has her grip on the ILCA6 top spot with just 9 points (5 victories out of 9 races). We will be looking closely at the 2nd place battle between Greek Vasileia Karachaliou (29 pts) and British Hannah Snellgrove (31 pts).
A similar scenario in Nacra17 with Italian pair Ruggero Tita/ Caterina Banti dominating the class (10 pts with 6 victories out of 9 races) as British Olympic Champion John Gimson paired with Anna Burnet (28 pts), Finnish Sinem Kurtbay/ Akseli KESKINEN (30 pts) and Italian Gianluigi Ugolini/ Maria Giubilei (33 pts) can still pretend to a 2nd place.
In 49er, French pair Erwan Fischer/ Clément Pequin may have dropped to 3rd place, but the top 4 is still very close. First is Polish duo Mikołaj Staniul/ Jakub Sztorch (31 pts), winner of two races today. They are closely followed by team USA Ian Barrows/ Hans Henken (32 pts), the French (32 pts), and Spain's Diego Botin Le Chever/ Florian Trittel Paul (32 pts).
In 49erFX, Dutch Odile Van Aanholt/ Annette Duetz took (definitely?) the lead (28 pts) as Brazilian Olympic Champions Martine Grael/ Kahena Kunze are still 2nd but with 37 points even though they finished stronger with a 2nd place and a victory in last two races. Sweden's Vilma Bobeck/
Rebecca Netzler are 3rd with 43 points.
In mixed 470, there was no change in the leaderboard with Spain's Jordi Xammar/ Nora Brugman leading (14 pts) followed by Italian Giacomo Ferrari/ Bianca Caruso (22 pts) and French Kevin Peponnet/ Aloïse Retornaz (26 pts).
Check all results on Trofeo Princesa Sofía's website
DID YOU KNOW?
Trofeo Princesa Sofia is an SSL 1000-point event that counts for SSL Ranking.
Competitions are classified into eight categories.
Each category is granted a number of points to be awarded to the athletes, from 10 to 4000 points - 1000 points at Trofeo Princesa Sofia.
SSL points are awarded to account for 100% for the first year, 50% for the second year, and 0% for the third year
The athletes' six best results are taken into account according to the system mentioned above (and all local regattas)
All athletes who complete a round of a regatta included in the Ranking obtain at least one point.
Focus on / Sailors / Regattas